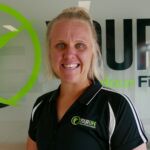 QUALIFICATIONS 
-Cert III & IV in Fitness
-Fitness Australia Registered
-Les Mills RPM Certified 
-Les Mills Sprint Certified
SPECIALTIES
Krystal specialises in strength and cardio endurance based circuit training. With this combination of training styles, Krystal believes that anyone from beginners to advance can use this training to achieve their fitness goals.
Krystal has a passion for fitness which started from her personal inspiring health & fitness journey and this is shown within each training session. Krystal makes sure you are supported during your sessions & loves to push you to your max potential!
PRICES & AVAILABILITY
To find out more about Krystal's prices and availability contact her below.
P: 0401 393 372
E: k.mcmurtrie17@hotmail.com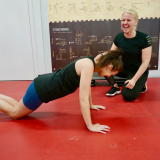 Annie Stig
I had never trained with Krystal before but I was told how great she was. And it was so true! She filled the room with so much energy. It was a great way to get back into exercising and keep coming back. Whenever I see Krystal around the gym she is always so friendly and approachable.