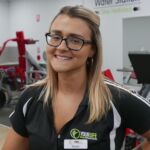 QUALIFICATIONS 
-Cert III & IV in Fitness
-Experience in gym management
-Experience in one-on-one Personal Training
-Experience in group training
SPECIALITIES
Maddi has a huge passion for personal training as it has helped her over the last few years, physically and mentally. Her main focus areas are on strength training and cardiovascular fitness, and showing people the importance of weight lifting no matter who they are! She is confident and easy going which makes her a great trainer to put your trust in to.
PRICES & AVAILABILITY
To find out more about Maddi's prices and availability contact her below.
P: 0472 713 897
E: mnmccauley13@hotmail.com
Sophie Smith
Maddi is a dedicated and passionate PT and is always going the extra mile for her clients. She pushes you in every session and always keeps training fresh and exciting. I feel so much more confident in the gym now and with my training after being taught how to train with correct form, thanks to Maddi!